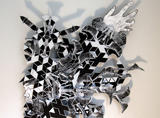 Beard & Weil Galleries, Wheaton College, Norton, MA
Adimando is fascinated with sleep, a vulnerable state we spend nearly one-third of our lives in, despite our human need for control. The works chosen for this exhibition draw on Adimando's interest in, and experience with, nightly restlessness—the fight for, and sometimes, against, the parameters and occupants of the place/space we call sleep.
Moreover, his interest extends to the possibility that at intervals of the sleeping-state, we are capable of communing with an alternate dimension. Adminado's deft combination of materials and motifs, including screenprints, digital imagery, image transfers, and cut paper and board, come together evoke dream-like, other-worldly, and futuristic spaces where anything is possible.