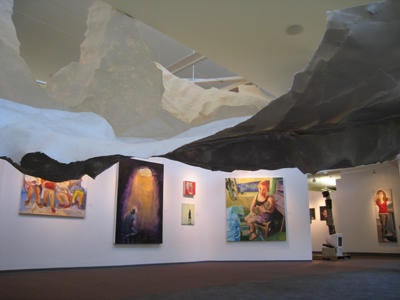 Kniznick Gallery, Women's Studies Research Center, Brandeis University
"Floors & Ceilings" is a juried exhibition of original work by nine Brandeis students, the first show of its kind at the Women's Studies Research Center (WSRC). Also for the first time, a Brandeis student, Nera Lerner '12, co-curated an exhibition for the Center. The artists are both undergraduate students and students from Brandeis' post-baccalaureate program.
Floors and ceilings can represent structure or confinement, homes or prisons. The so-called "glass ceiling" still exists today for women, and getting in on the ground floor is nearly impossible for many people. Moreoever, we often speak of "sharing common ground" as a key to understanding one another and alleviating social ills.
The work in this exhibition responds to the theme of floors and ceilings in both literal and metaphorical ways. Some pieces depict rooms and spaces that serve to define gender roles or life choices; others rely on the floor and ceiling as a metaphor for the binaries of gender and sexuality in our culture; still others engage the actual floor and ceiling of the gallery.