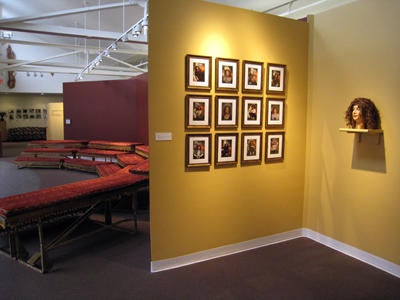 Kniznick Gallery, Women's Studies Research Center, Brandeis University
On March 12, 2012, the Kniznick Gallery welcomed the fourth annual Hadassah-Brandeis Institute (HBI) Artist-in-Residence, Sarah Zell Young. The HBI residency provides artists the opportunity to be in residence at Brandeis University for up to one month while working on a significant artistic project in the field of Jewish women's and gender studies.
Young is an artist working in several media--photography, sculpture, installation, and film--to explore issues of justice, Judaism and the body. Her exhibition for the WSRC/HBI, "Occupy Sanhedrin," will examine roles--both religious and secular--for Jewish women from the Second Temple to the present and will explore how bodies can become hazarded in the pursuit of justice. In addition to photographs, the exhibition will feature a large, site-specific installation--an interactive and participatory rendition of a Sanhedrin (rabbinic court). By granting access to an historical space of justice--making it physical--Young invites viewers to engage with traditional ideas and received wisdom of judicatory in a new way and to achieve personal agency over their own relationship to history.